The Big Red Suitcase Tour Crosses the U.S.
December 24th 2013
Keith Kenny Chosen to Headline UXO Benefit Concert in Laos
Vientiane, Laos – Native New Jersey guitarist and singer songwriter Keith Kenny has been chosen to headline a benefit concert in the Southeast Asian nation of Laos to raise money for victims of Unexploded Ordnance (UXO).

The event is called "We Are Kind" and will be held on November 11, 2013 in Vientiane, the capital of Laos, and will feature several well-known Lao rock and dance performers with Keith Kenny closing the evening.

Benefit organizer, Phongsavath Souliyalat (Pong), became a fan of Keith's music while working with different charity organizations in Laos. Pong is a 20 year-old Lao UXO victim who lost both hands and eyesight when a tennis ball sized bomb exploded in his hands only four years ago. He is now a spokesperson for the COPE Center which provides prosthetics, rehabilitation and support for other victims of UXO and is involved in raising awareness across the nation.

When Pong approached Keith about performing, he enthusiastically accepted the offer. "I'm really honored to perform for the victims of UXO and hope that my music can help make a difference. I'm looking forward to meeting Pong in person and excited to experience the culture in Laos. "

Keith also expressed a great deal of gratitude toward Aqua Survey Inc. who has sponsored the trip for him to perform at the benefit concert. Aqua Survey Inc. is an American company involved in locating and remediating UXO throughout Laos.

Keith is currently in the midst of his Big Red Suitcase Tour, which includes performances at over 30 cities across the U.S. He has made some quick changes to his tour schedule to accommodate for the 8,000 mile journey. Upon returning from Southeast Asia, Keith will resume his National U.S. Tour from New Jersey to California.

For more information regarding the "We Are Kind" benefit concert and additional tour dates visit www.KeithKenny.com or www.Facebook.com/Wearekindconcert
October 19th 2013
The Big Red Suitcase Tour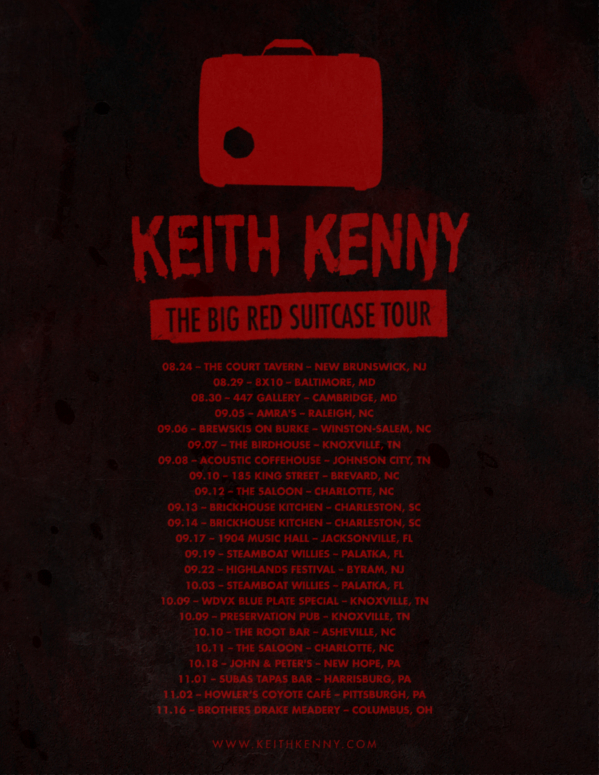 August 22nd 2013
River Roots Music Festival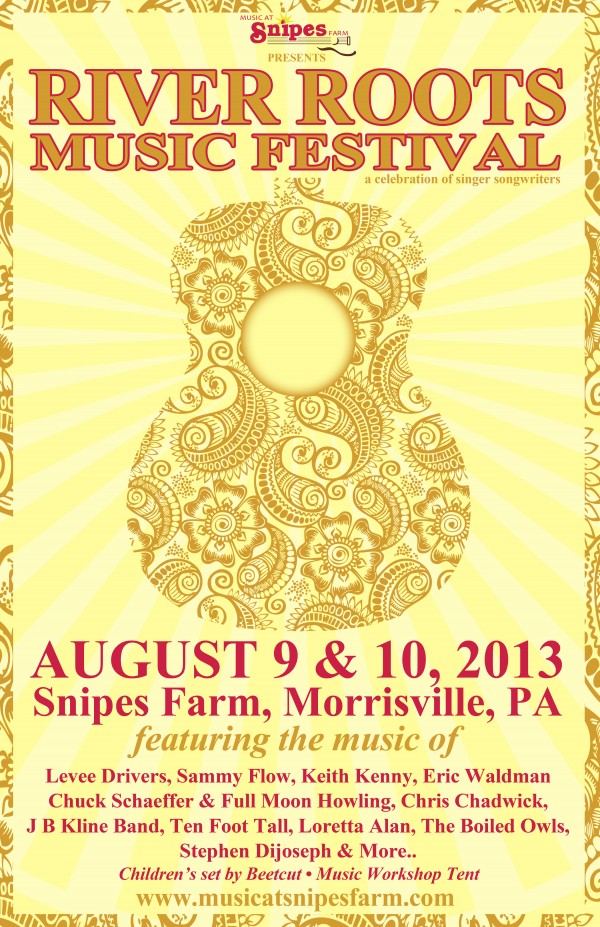 Come check out Keith's set at The River Roots Music Festival on  Saturday – August 10th.  We have a limited number of discounted advance tickets available! Check out the tour page for more info.

July 2nd 2013
The Aquarian Reviews "And the Light Came Blaring In…"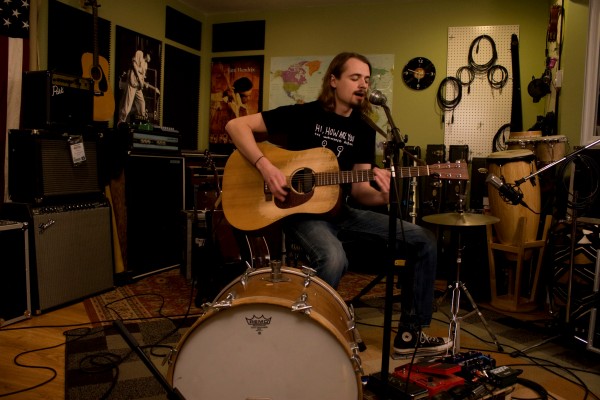 Keith just finished up a 6-week tour of the east coast and came home to a great review of the new record featured on the Home Page of The Aquarian today!
Photo by Paul Sky
May 1st 2013
And the Light Came Blaring in… Spring Tour 2013
3.21.13 – 8×10 – Baltimore, MD 8pm with New Riders of the Purple Sage
3.23.13 – The Court Tavern – CD RELEASE SHOW – New Brunswick, NJ 9pm
3.26.13 – Martin's Downtown – Roanoke, VA 9pm
3.27.13 – Preservation Pub – Knoxville, TN 9pm
3.29.13 – Jack of the Wood – Asheville, NC 6pm
4.01.13 – Smith's Olde Bar – Atlanta, GA 8pm
4.04.13 – Steamboat Willies – Palatka, FL 10pm
4.10.13 – Tobacco Road – Miami, FL 8pm
4.18.13 – Steamboat Willies – Palatka, FL 10pm
4.19.13 – Brick House Kitchen – Charleston, SC 7pm
4.24.13 – Terrapin Brewing Co – Athens, GA 5pm
4.27.13 – The Saloon – Charlotte, NC 10pm
4.29.13 – Amra's – Raleigh, NC 8pm
5.03.13 – Langhorne Coffee House – Langhorne, PA 6pm
5.15.13 – Urban Nest (Formerly Chico's House of Jazz) – Asbury Park, NJ 8pm
5.17.13 – John & Peter's – LIVE RECORDING – New Hope, PA 9pm
March 15th 2013
CD Release Show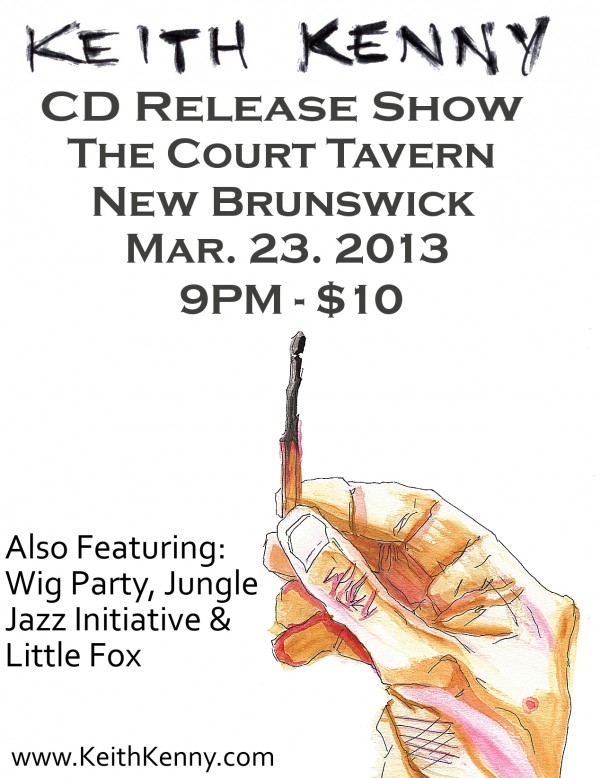 artwork by Ian Luberecki

February 23rd 2013
Right Before the Light Tour
A new album entitled "And the light came blaring in…" is coming soon!!! Stay tuned for the release date. In the meantime, you can hear the new songs at these January tour dates!!
1.05.13 – The Saint – Asbury Park, 9pm
1.06.13 – John & Peter's – New Hope, PA 9pm
1.08.13 – Martin's – Roanoke, VA 10pm
1.09.13 – Preservation Pub – Knoxville, TN 10pm
1.14.13 – Smith's Olde Bar – Atlanta, GA 8pm
1.22.13 – Brooklyn Bowl with The Zen Tricksters – Brooklyn, NY 8pm
1.24.13 – Winter NAMM Convention – Anaheim, CA
1.25.13 – Winter NAMM Convention – Anaheim, CA
1.26.13 – Winter NAMM Convention – Anaheim, CA
1.27.13 – Winter NAMM Convention – Anaheim, CA
January 2nd 2013
Canajoharie Church Retreat

This video was captured at a vacant church in Canajoharie, NY last summer.  A very raw, unedited live recording has also been released for a free download on Bandcamp.  Track 3 "Whatever You Want" was completely improvised.  Enjoy!
September 11th 2012
Ireland Tour Dates
Keith just wrapped up a great tour through the mid-west and is flying over to Ireland for a few more shows next week!  The first show is at DeBarra's in Clonakilty; a legendary venue visited by many rock legends throughout the years including Neil Young, Noel Redding & Mitch Mitchell.  This will be Keith's first visit to his Irish roots and he is excited to share his music across the Atlantic.
8.01.12 – Debarra's – Clonakilty, IE – 8pm
8.04.12 – Monroe's – Galway, IE – 8pm
July 26th 2012